Keeping Homes & Businesses in DFW Pest & Rodent Free Since 2020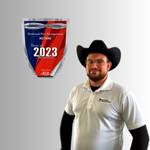 A Message From The Owner of Preferred Pest Management, Griffin Thomas:
At Preferred Pest Management, we proudly bring over a decade of unrivaled expertise and dedication to the greater Dallas, TX area. Our mission is to provide you with the most comprehensive, eco-friendly, and effective pest control solutions to keep your home or business pest-free.
As a local, family-owned business, we deeply understand the unique pest challenges our Dallas community faces, from unwelcome critters like rats and roaches to the dreaded termite infestations. We continuously invest in advanced techniques, state-of-the-art equipment, and ongoing staff training to stay ahead of the curve in the pest control industry.
But we don't just get rid of pests – we prioritize your peace of mind. That's why we offer friendly, personalized service, fair pricing, and a 100% satisfaction guarantee. We aren't just your pest control experts; we're your neighbors who care about your comfort and wellbeing. Choose Preferred Pest Management – experience the difference of local expertise and genuine care.
About Our Pest Control Services We Have to Offer in The Dallas, TX Area
Fight back against ant invasions in Dallas with Preferred Pest Management's comprehensive ant control solutions. Your home ant-free, guaranteed.
Struggling with bedbugs? Our rapid, effective bedbug treatments in Dallas ensure peaceful, bug-free nights. Contact us today
Keep your Dallas business pest-free with our professional commercial pest control services. Protecting your reputation is our business.
Put an end to irritating fleas with our advanced flea treatment in Dallas. We provide fast relief for your family and pets.
Enjoy your outdoor space again with our efficient mosquito control services in Dallas. Take back your summer from these pesky pests.
Opossum Removal in Dallas, TX
Experience quick and humane opossum removal in Dallas. Trust us to resolve your wildlife issues effectively and safely.
Raccoon Removal in Dallas, TX
Facing raccoon troubles? Our expert raccoon removal services in Dallas are safe, humane, and designed to prevent future invasions.
Eliminate the threat of disease-spreading rats with our reliable rat control services in Dallas. Trust us to restore your peace of mind.
Rodent & Wildlife Exclusion Services in Dallas, TX
Keep unwanted rodents out with our rodent and wildlife exclusion services in Dallas. We secure your property against persistent invaders.
Cockroach Treatments in Dallas, TX
Say goodbye to cockroaches with our powerful cockroach treatments in Dallas. We provide the ultimate solution for your roach problem.
Rodent Control Services in Dallas, TX
Protect your home or business with our comprehensive rodent control services in Dallas. Experience a rodent-free property today.
Skunk Removal in Dallas, TX
Take back control of your yard with our effective, humane skunk removal services in Dallas. Trust in our experience for prompt resolution.
Spider Control Treatments in Dallas, TX
Don't let spiders run your home. Preferred Pest Management's spider control treatments in Dallas guarantee a safer, spider-free environment.
Squirrel Removal in Dallas, TX
Experiencing squirrel problems? Our humane squirrel removal services in Dallas help protect your home from damage and invasion.
Termite Treatment & Termite Prevention in Dallas, TX
Shield your home from devastating termite damage with our expert termite treatments and prevention services in Dallas. Protect your biggest investment.
Tick Treatment in Dallas, TX
Secure your family's health with our efficient tick treatments in Dallas. We prioritize your well-being above all.
Wasp Removal Service in Dallas, TX
Avoid painful wasp stings with our professional wasp removal service in Dallas. Trust us to handle these stinging pests safely.
Our Informative Video Library
Our Recent Blog Posts