Table of Contents
Introduction: Protecting Your Home from Termite Infestations in Rowlett, TX
If you live in the Rowlett, TX area, you may be surprised to learn that an average of 25% of homes in the DFW metroplex are affected by termite infestations. It's a common misconception that if you don't see visible signs of termite damage, your home must be termite-free.
However, when it comes to termites, it's often the case that an active infestation is not immediately visible. In this article, we'll take a closer look at the types of termites that are commonly found in the Rowlett area, their habits, signs of an active infestation, and how to protect your home from termite damage.
Most Common Termites in Rowlett, TX
Subterranean Termites:
The most common type of termite found in the Rowlett area is the subterranean termite. These termites live in the ground and create mud tubes to their food source.
These tubes serve two purposes: to keep the termites in contact with soil, and to protect them from predators. You can usually spot these mud tubes along the foundation of a home with an active termite infestation, but they may not always be visible.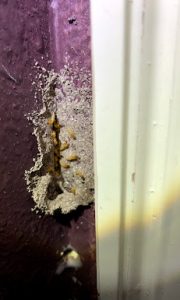 Signs of Termite Infestations Aside from mud tubes, there are other signs of a termite infestation. One such sign is the presence of "termite swarms". On a humid day after rain, you may see multiple swarmers flying around a particular area of your home.
These swarmers often look like "ants with wings", but with different wings than ant swarmers. If you see swarmers in or around your home, it's likely that you already have a termite infestation and need to do a termite treatment around your home's foundation.
Other signs of a termite infestation include small holes in the wall or baseboards, dirt (like sand) coming out of the wall, and discolored and soft walls.
These signs may be difficult to spot, especially with the naked eye. You can knock on the wall towards the bottom to check for softness. If the wall feels spongy, it's advisable to have a termite professional investigate further.
Preventing Termite Infestations in Rowlett, TX
There are two main ways to prevent termites from damaging your home.
The first is to do a liquid termite treatment every 4-6 years. This treatment, if done correctly with the right chemicals, can prevent termite infestations for years. It's recommended to have a liquid treatment done at least once every 5 years.
The second option is to set termite bait stations around your home that need to be checked once a year.
There are various types of termite bait stations on the market, but the most common are Trelona ATBS bait stations and Sentricon termite baiting system. Trelona ATBS bait stations are more cost-effective and have been proven to be the most superior termite baiting system on the market.
Protect Your Home From Termites with Preferred Pest Management
If you're not sure which method to choose, contact Rowlett's termite treatment experts at Preferred Pest Management. We can help you protect your home from termites with our termite treatments, which come with warranties to give you peace of mind.
Don't let termites damage your home, contact Preferred Pest Management and let us help you keep your home safe.